Get answers to all your Strides questions here.
How do I get started?
The easiest way to get started is to create a new tracker from a template. To do that, tap the + on the Dashboard, then choose a goal or habit you're interested in from the templates, make any changes to the default goal and settings, and start tracking your progress. Since 100,000's of people have used Strides, we've found that you'll be most successful with it long-term if you start tracking about five things, typically from different areas of your life (e.g. Health, Money, Relationships, etc) so you can still focus with each.
To track something other than the templates, enter its name into the text box at the top of the New Tracker view, then tap the Next button in the top right. From there, you can choose from four tracker types, to track anything you want.
If you're having trouble with goal setting, planning, how to track habits, break bad habits, or reflection, I wrote a book called
Conquer Habits
that walks through all of this step-by-step. It's short, easy to read, and jam-packed with helpful tips to make habit building easier. Download it for free:
Apple Books
or
PDF
Do you have a tutorial or guide?
After personally talking with over 14,000 people to help with their habits over the years, I realized that while software can do most of the heavy lifting, knowing a few core concepts can make the app a lot more effective. So, I decided to write a book that's all about taking control of your habits. It's like a step-by-step checklist you can work through at your own pace, and it's filled with tips to help with building good habits, break bad habits and achieving your goals.
Get Conquer Habits for free here
(Apple Books) or
get the PDF
.
Which type of tracker should I use?
We've spent five years designing and developing Strides with one goal in mind: To make it easy to track anything and everything you care about.
In order to make this happen, we came up with 4 different types of trackers:
The
Target tracker
makes it easy to track a goal you want to achieve by a certain date.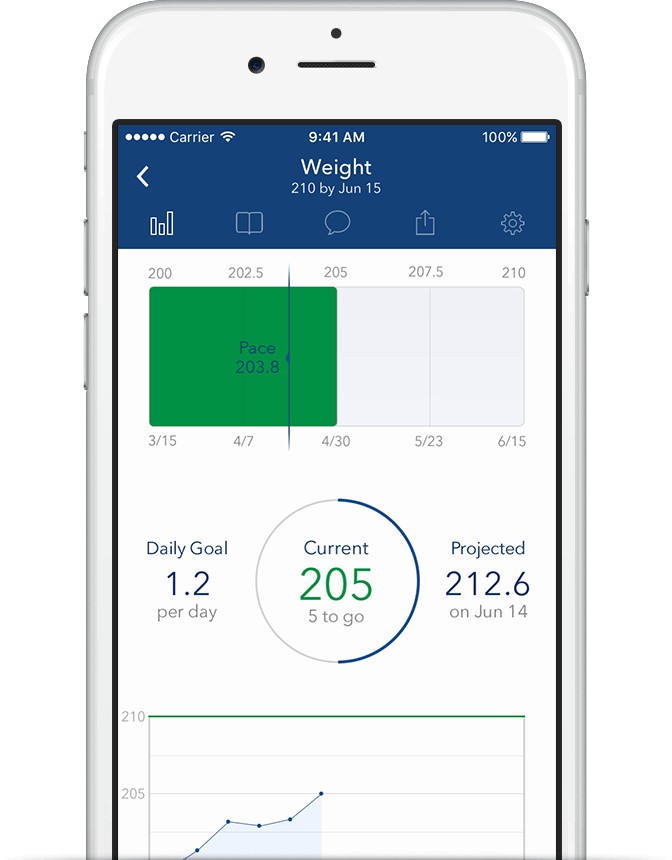 Target is best for goals like "Lose 10 pounds by June 15th" or "Save $2,000 by Nov 1st".
Know if you're on track at a glance (green or red), and see all your data in one view to save time.
The
Habit tracker
type is best for helping you to break bad habits and form good habits.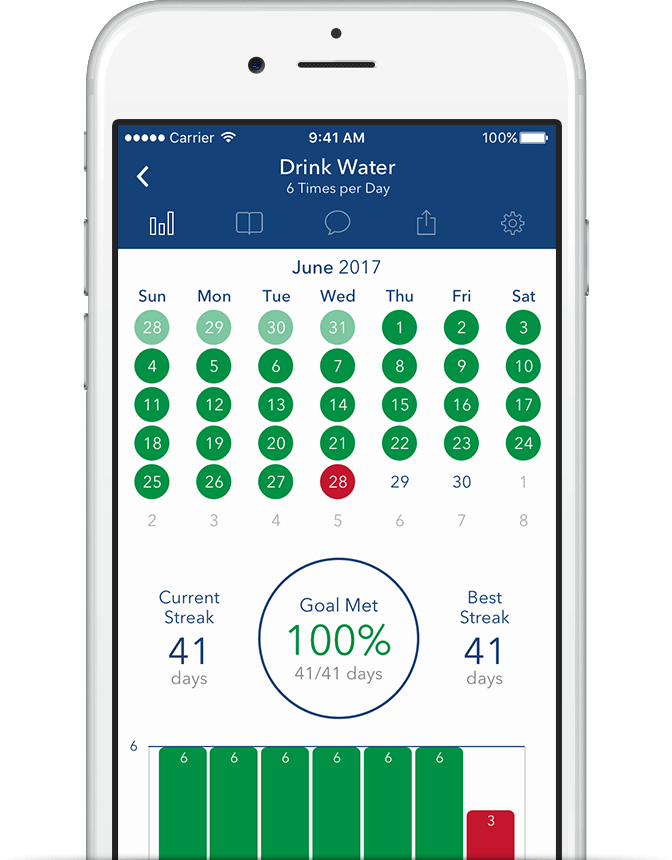 Habit works for things like getting up earlier, quitting smoking or working out 5 days/week.
Like Jerry Seinfeld said: "Don't break the chain!" Stick to it until it's second nature.
The
Average tracker
type lets you keep track of your average over time.
Average is best for tracking things like your budget, calories, hours of sleep, or golf strokes.
The graphs let you see every entry, with the date logged, so you visually monitor your progress.
The
Milestones tracker
type helps you stay on track with anything that has steps or phases.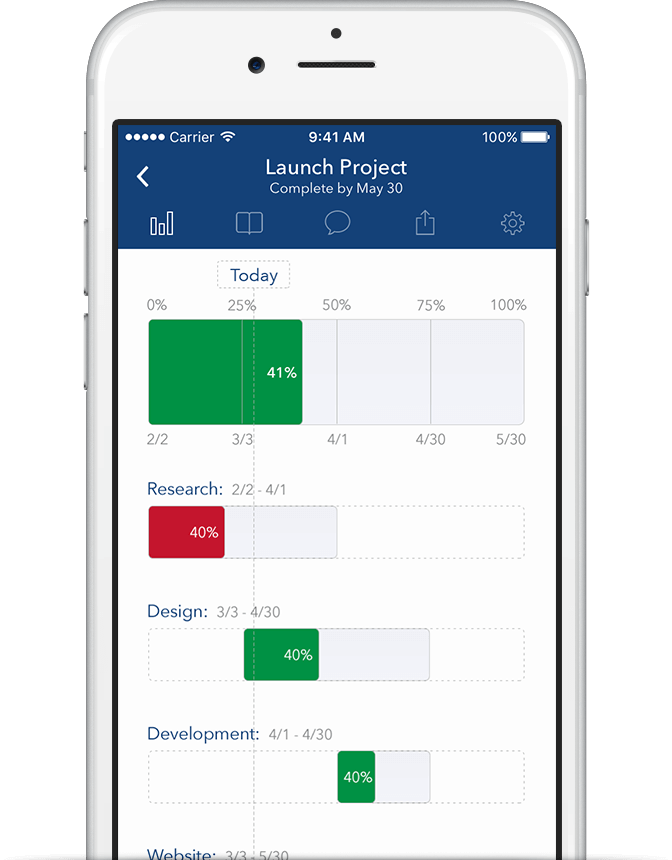 Milestones is best for projects with multiple phases like planing a party or wedding, or even set goals for the week, month or year.
Each milestone can have its own start and due dates, so they each have a pace line to shoot for.
Choose how much each milestone is worth to the entire goal, and Strides will do the math for you.
Is there a way to "Skip" a log?
No, and this is very intentional, based on lots of research. Why? In short, because it hurts way more than it helps. We've tested it out, and hundreds of studies have confirmed our findings: Relying on willpower in the moment is a terrible strategy for building lasting habits. Once our brain makes the connection that "skipping" something has no negative effect (e.g. You go on vacation and skip a work out, but it doesn't reset your Streak or affect your Success Rate), it becomes far too easy to skew your stats and the entire system breaks down.
So what do you do if you are on vacation or sick? The best option is to attempt to do the habit, even if it's not to the same level you usually do, and log Yes since the act of keeping up the habit is what helps to build it for the long-term. You could also add a Log Note so you can look back later to see you were on vacation or sick at that point.
To go with the Work Out habit example, if working out normally means stretching, strength training and cardio, but you're on vacation and don't want to make time to go to the hotel gym, simply do your stretches and maybe some quick bodyweight exercises in your room and go on a walk during the day. If it's a work habit, treat it the same way as a paid vacation policy; if you're getting paid to take time off, you deserve to count your habits too. :)
There's nothing wrong with logging Yes even if it's not your normal routine, because the important thing is that you're not completely breaking the habit. Keeping your habits top of mind and being consistent is what gets the best results.
How do I edit my tracker's settings?
To edit a tracker, tap it then tap the settings icon in the top right corner. Or, long-tap the tracker and tap Edit.


How do I reorder my trackers?
Long-tap any of your trackers, then tap Reorder. Or, choose Reorder Trackers from the Settings screen.


How do I delete or edit a log?
To undo the last log, swipe left and tap Undo, or tap the checkbox in the Done or Missed section.
You can also tap a date in the past and undo those logs. To see the tracker's full history, long-tap it and tap History, or tap the History tab above its charts. There, you can edit the log value too.
How do I delete a tracker?
Open the tracker, then tap the settings icon in the top right corner. At the bottom of the tracker settings page, tap Delete Tracker and confirm.


How do I see my Archived trackers?
Here's how to get to your archived trackers:

1. Tap the Dashboard tab.
2. Tap Dashboard with the down arrow in the top nav, or the tag icon in the top right.
3. Select Archived to filter to those trackers.

From there, you can tap an Archived tracker and unarchive it in its edit view.


How do I log on yesterday?
Tap yesterday at the top of the Today view, then log from the Due section.


How does Logging "No" work?
Swiping left to log No for a Habit will move it to the Missed section and clear its alerts and the app icon badge, as opposed to leaving it in Due unlogged and keeping the badge. It also keeps a record that you logged a No on the habit calendar.


What do the green/red bars mean?
Throughout the entire app, green means you're on track, and red means you're behind pace.



What does "Pace" mean?
Pace is the value you should reach by today, based on the dates and values you set.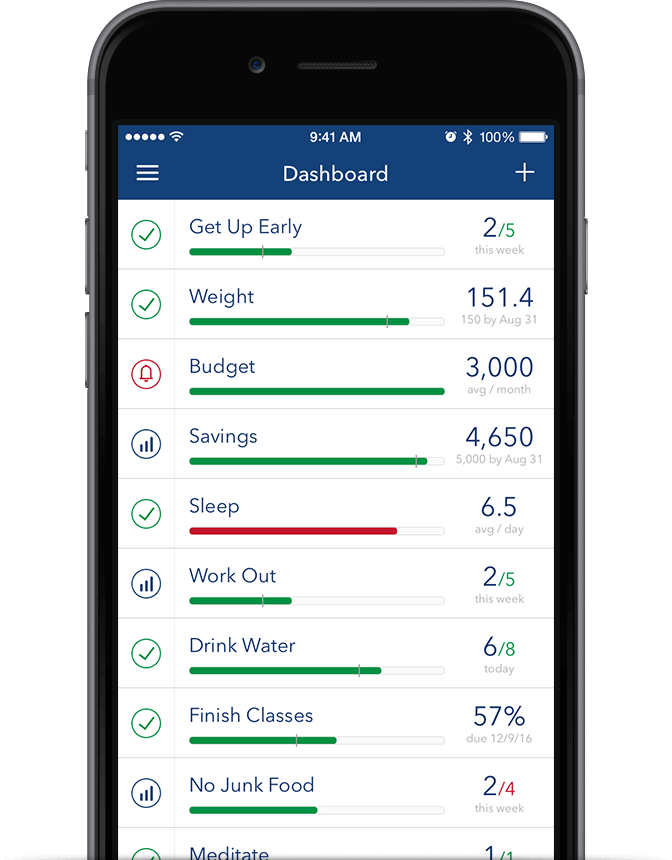 In the example above, we're on track with "Weight", "Get Up Early" and "Drink Water" because we're ahead of the Pace line (where we should be right now, based on our Start Date and Goal settings).
What do the Dashboard icons mean?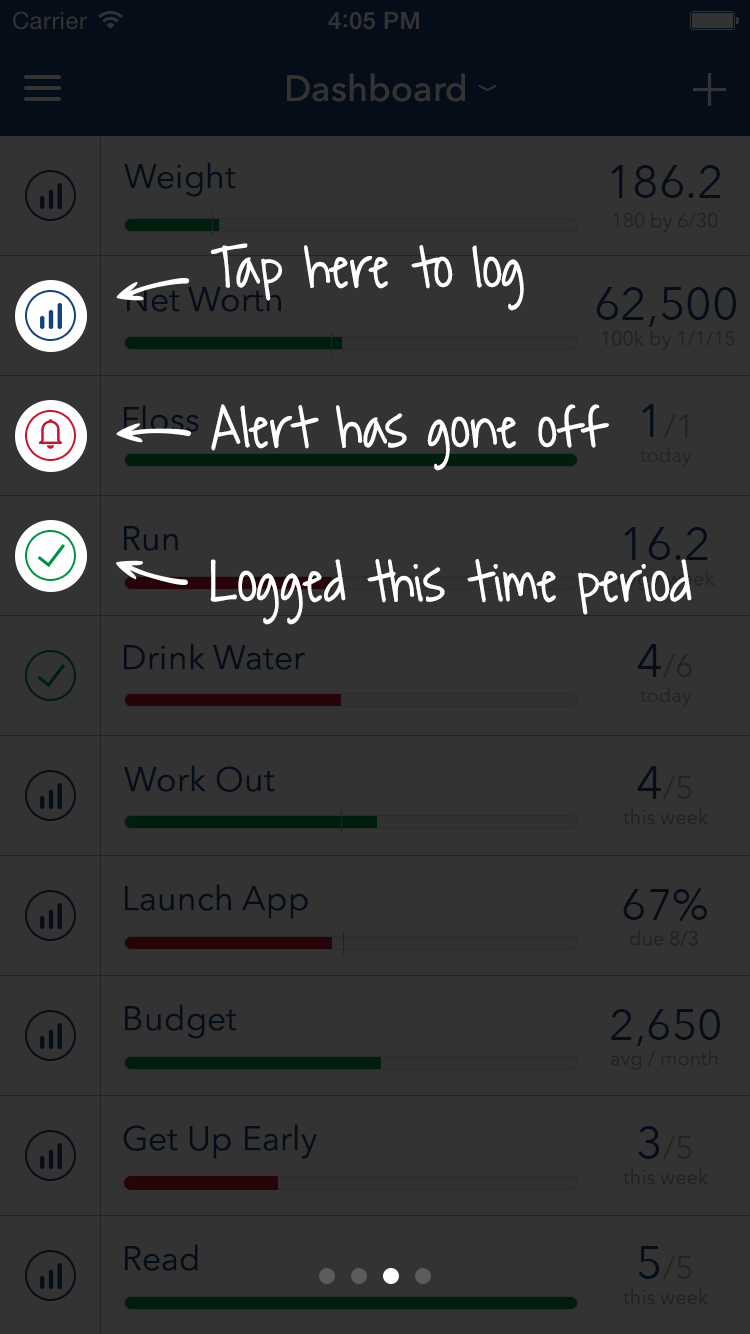 How do Bad Habits work?
If you want to break a bad habit, turning the Bad Habit setting on for a Habit tracker does a few things differently to help you track it:

1. On the Dashboard, you'll see the "Goal" number in red, instead of green, so you know it's your max.
2. Logging a Yes ("I did it") shows a red check to reinforce that it's a bad behavior.
3. Your progress bar will start 100% full and green for the day/week/month. As you log, the bar will shrink (rather than growing like a good habit would). When you hit your max, the bar will be empty. If you log one more Yes, it will be 100% full and red to show you went over your max.

This is all done to help you break the bad habit. If the max you set is too difficult, feel free to set it higher at first. You can also change the Start Date or tap Start Over on the Edit Tracker view to create a new goal if you want to gradually reduce the max until the bad habit is broken.


Can I get alerts on specific days?
Yes. On the Edit Tracker view, tap Alerts and choose Weekdays for specific days of the week.

Your alerts can also be triggered every X days, weeks, or months, and you can set multiple alerts on each log day.


How do I set multiple alerts?
On the Edit Tracker view, tap Alerts. To add an alert, tap Add New at the bottom of the alerts list.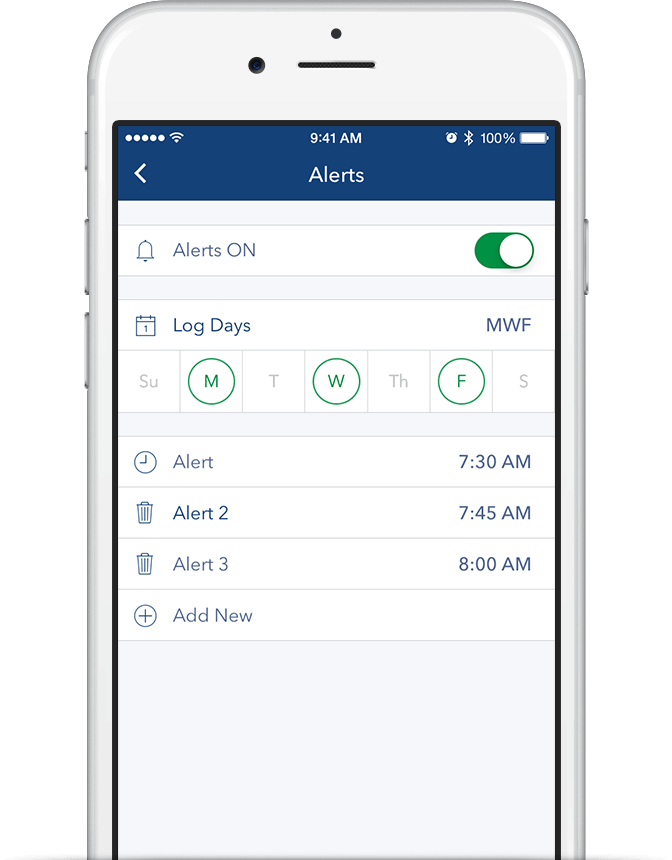 To delete an extra alert, tap the trash can icon, or swipe left and tap Delete.
Can I change the alert sound?
Yes. Open the menu and tap Settings, then tap Alert Sound and choose from 15 unique sounds.


Can I move my data to a new device?
Yes. Strides Plus comes with Sync & Backup so you can simply
download the app
on your new device and log in to your Strides account, and your data will sync!
How do I reset my password?
On mobile, tap the (?) icon on the right side of the Password field of the Log In screen, then enter your email address you signed up with. On Web, enter your email
here
.
Is my data safe/private?
Yes. We don't sell your data to other companies or advertisers. Your data is safe, and we have a transparent business model (monthly/annual subscription) so we don't have to clutter up the interface with annoying ads. Our goal is to help you achieve yours, plain and simple.


Is it really free?
Yep! It's free forever to track your top three goals and habits.


How do you make money?
We don't distract with ads, sell data, or any other tricky stuff. Our business model is simple: If you're enjoying the free plan and would like even more value, you can upgrade to unlock some awesome premium features and support our small company so we can keep making Strides for you.


What do I get with the Plus plan?
Strides Plus gets you:
- Unlimited goals & habits (removes the tracker limit on the free plan)
- Sync between devices (iPhone, iPad and any computer with the Web app)
- Data Backups to keep your progress safe
- Tags & Filters to organize your trackers and focus on just the ones you want to see
- Today List which shows you just the trackers to log right now and fades out the logged ones like a to-do list
- Other features like Archiving, Data Export, Goal Notes, Privacy Lock
- And a bit of good karma for supporting development for people that love helping you achieve your goals. :)


What are the subscription terms?
Strides Plus is an optional monthly or annual subscription. Payment will be charged to iTunes Account at confirmation of purchase. Subscription automatically renews unless auto-renew is turned off at least 24-hours before the end of the current period. Account will be charged for renewal within 24-hours prior to the end of the current period, for the chosen plan's price.
Subscriptions may be managed and auto-renewal may be turned off by going to your iTunes Account Settings after purchase. No cancellation of the current subscription is allowed during active subscription period. Read our full Privacy Policy / Terms of Use here.


What if I want to cancel?
You cancel anytime, and it's easy to do through the App Store:

1. Open Strides, then the menu on the left side.
2. Tap Settings, then Account.
3. Tap Manage Subscription, then tap Cancel Subscription at the bottom.

Note: To be sure you're not charged for the next renewal, turn off auto-renew at least 24 hours before the end of the current month/year.

If you subscribed through our Web app, you can cancel there or with the contact form below. Thanks for your support!


How do I report an issue?
Sorry about that! We're always working on a new update, so we'll do everything we can to get it fixed for you quickly. Feel free to contact us
here
to let us know what's going on, with details of what was happening with the bug/crash happened.
In the meantime, try closing out the app by double-tapping home button from your home screen, then swiping up on Strides from the multi-tasking view.
Thanks for your patience, and we'll get this taken care of for you as quickly as possible!
How do I submit a feature request?
We love getting features requests to help improve Strides! You can vote on new features or submit your own ideas
here
.
Have another question?
Email us
here
and we'll get back to you as soon as we can. Have a great day!